When looking at the sun, we do not feel like it. But when looking at the sunflower, the flower that raise its head under the hot sun, we feel like we are inspired.
Natsuko is an interesting cheater. She is not so beautiful, not rich but what she can do is to play trick with men.
Normally Nasuko will have two main tricks: One is to ask men if he win the lottery 1 million yen what would they do. She waited and listened to all dreams and desires. In fact, they never won, but when saying about dreams, their soul became happy and joyful.
The second way is to tell men to list ten happiest things in life in order. Because of Natsuko, they remembered the happy moments and tried to classify which was best, which came in second rank. Then when they became used to Natsuko's gentleness, she began to take their money.
(Pic: The sunflower thorn describes the image of a strong, attractive but cunning woman)
She got into every kinds of trouble like fake marriage (to get money), selling fake paintings, going to the hospital to look after elders to get testament money… And so on from 24 to 70, Natsuko was sue many times and had to get the help of her relative Tetsuko.
Tetstko was also an interesting lawyer. Although she did not like Natsuko but handled her trouble nicely, sometimes she even wished Natsuko came to make everybody cheer up.
As a new lawyer, her first customer was selfish Natsuko. She was a lawyer but she did not believe any words of her relative customer, even when the stories Natsuko told were always so emotional. The strange relationship between them was remained like that in about nearly half a century.
Being a lawyer for more than 40 years but Tetsuko never found any good thing in this job. People compare Tetsuko like a lonely Samurai. She was not open, she did not have friends, she only focused on her job. However, she was lucky enough to find wonderful partners in life like lawyer Ogiwara, manager Miyuki, best friend and ex husband Sakaguchi.
Following Tetsuko, readers can understand about the real personalities of these two women. If Natsuko was like a bright sun, Tetsuko was like a thorn sunflower living under that sun. Instead of spreading lights everywhere like Natsuko, Tetsuko kept the lights to herself.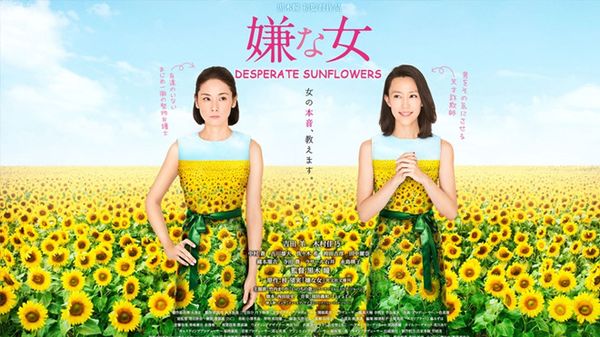 (Pic: Nozomi Katsura's work was made into film)

Loneliness has some varieties, it can turn into happiness if we know how to take it. We do not need to be in a hurry to make friend or to find ways to blend in the society.
Just think about you bad sides and then you will find your best friend. We cannot always be like Natsuko, cannot be happy all the time and smile with strangers, but living like Tetsuko is not bad. Our lives is ours and living is not for others to judge.
An interesting in thorn sunflower is that, through 370 pages, Natsuko did not have any speech, or in another words did not really appear in the real story. All the sketches of that faker was told by Tetsuko and others. That is why this character's mind is a secret, which make her image more interesting.
Author Nozomi Katsura, born in 1965, is a Japan female author. Before becoming a famous writer, Katsura worked as an officer for many years. Her first work in 2003 won many prizes. The sunflower thorn was released in 2010 and fastly became one of her best work.