It is not by chance that subjects about emotion control become popular on the internet. Sharing about tools like Distraction, 1-2-3 Go & Magic, Time-out… have received thousands of share and comments of parents.
These tools' effect depend on each child's personality as well as the situations which parents and children face. However, positive discussion make small change in parents' way of thinking and ways that parens use to handle crying, nagging, angry or worried babies.
On releasing the series Parents used to be children of author - child psychology expert Madeleine Deny (France), the issue of child and parent negative emotions control once again be on the table with totally new methods mentioned.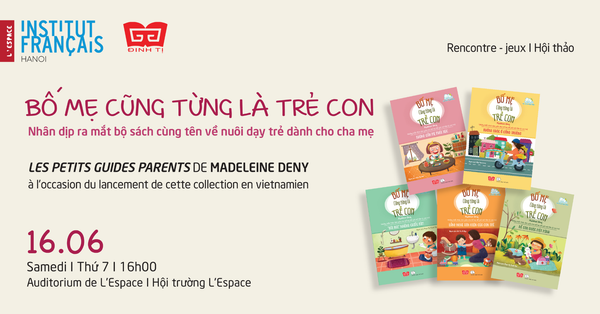 A "class" for parents with chances to interact 1-1 with expert will be held at France cultural center, Hanoi. At this special "class", daily situations will be analysed and reviewed under psychological mind.
What is the reasons of angryness, annoyance, stubborn and crying?
If being angry and punishment are not the solutions, so what?
If parents have applied many "good" methods but fail, what is the next step?
All questions and worries will be answered through useful sharing of guest speaker Le Hung, creator of Obraha natural mind.
Events' information:
Time: 16:30 - 18:00, Saturday, June 26th, 2018
Location: Meeting room, French cultural center, 24 Trang Tien
Guest speaker:
Le Hung - Independent expert of natural mind, creator of Obraha.

Nguyen Bao Ngọc - editor of the series Parents used to be children.
Organizer: DinhtiBooks
About the series Parents used to be children

Being the author of more than 100 early education books and expert of education game, mrs. Madeleine Deny not only writes books with the role of a parent but also an observer of children and parents.
The series Parents used to be children release with 7 books including 7 subjects which help to explain all basic queries, then help parents to understand things children cannot speak out.
Let children have alone time

Listen to children's angryness

Family's boss: Parents or children?

Farewell to diapers

Help children to sleep soundly at night

Eating independently

Go to school
The speciality of this series is the knowledge of raising children, independence training and emotion control based on real-life situations. Explanations and solutions to situations are concise and highly applicable for parents to use in everyday life.
Therefore, this series is compared to a parents' "home expert". Whenever children are stubborn, misbehave, parents can consult similar situation in the book to decode children's psychology and find the key to the solutions without hurting children's feeling.
Vietnamese edition of this series was released at the start of 2018 and fastly became must-have soft-skill book for parents.
Publishing information
Series' name: Parents used to be children
Author: madeleine Deny
Size: 14.5 x 20,5 cm
Price: 45.000 vnd
Publisher: World publisher