In the talkshow "Disconnect to connect with your children", guest speaker Phan Ho Diep and author Hoai Anh had a cozy sharing meeting, which include simple but meaningful things to help your children to be happy. Hundreds of parents and children spent their time to participate with us in Boo cafe number 1 Luong Yen.
If you want your child to be happy, be happy yourself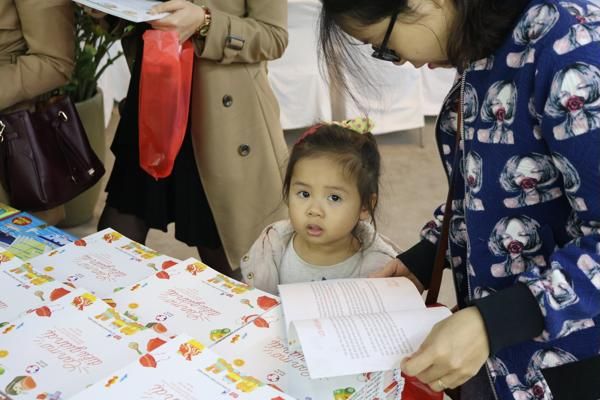 With the subject "Disconnect to connect with your child", the two guest speakers together shared about the way to bring quality time to children. In technology time, everybody is busy with much worries, how to totally disconnect to spend time with children? It is a challenge not easy to overcome.
Sharing about ways to connect to children, mrs. Phan Ho Diep thought that when the mother feel satisfy with small happiness in her life, she knows ways to create simple but meaningful thing to her children. When spending time with children, put the quality beyond quantity. We often just need 10 minutes with our children but it must be quality time. It it more meaningful than whole day but without connection. Mrs Diep also admired a mother who gave up using TV to spend whole precious time with her children. She thought that it was a brave and lovely decision.
Agreeing with author Hoai Anh, mrs. Ho Diep also thought that for children to be happy, parents need to spend time for themselves, take care of themselves. Because children are very sensitive, they are only really happy if they feel that their parents are happy individuals.
Tips for parents to spend time with their children
Normally, in a family, mother is the one who spend more time with children. Common concern of mothers is how to make dads to connect more with children and to understand that spending time with them is the most wonderful thing. Sharing about this, ms. Hoai Anh had some very cute tips. Firstly, mothers should show dads that playing with children is benefit, not task. And mothers should give more "rights" to dads, reduce nagging, being perfectionist because dads are often not as good as moms. Instead, believe in dads and praise him when he does right.
Having the same view with ms. Hoai Anh, mrs. Ho Diep shared some useful tips that made Nhat Nam's dad from a clumsy man to a big friend of him. Those were just small things but having wonderful effects. She never used daddy to threaten Nam because she thought it might ruin daddy's image in Nam's mind. She gave her husband "priority" to do such suitable jobs like taking Nam to bed, reading to Nam, playing physical and scientific game with Nam… As a result, daddy and son will have more connection time naturally.
Simple things that make children happy
When being asked about quality time, mrs. Diep shared about 8 simple things that she often did with her children that made both of them happy. Mrs. Diep's views are always friendly, simple but humanity and cozy. She thought that she was just like other mommies who loved her children and respected time being spent with them. So these 8 things can be applied to any parents.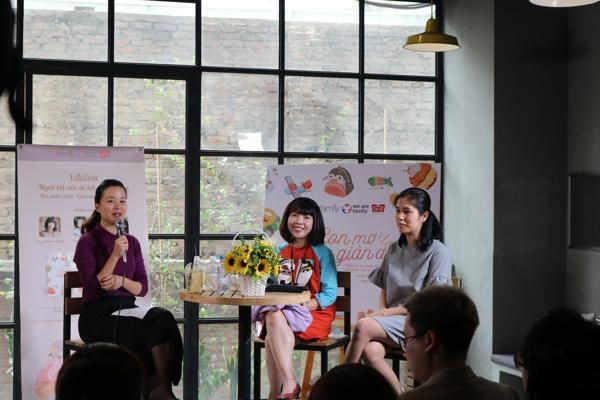 Firstly, let children play a lot. Use time for children to do physical movement, even in bad weather. She thought that when mothers are "easy" when raising children, it helps them to experience and fell joys fully.
Secondly, set up a healthy nutrition plan for children. Thirdly, use time to read with children. According to her, Nhat Nam is a normal child, not a genius. But the fact that he is a curious and eager child in learning based on his fondness in books. Since Nhat Nam was a small child, she and his dad took turn reading for him every night. Besides, she read for him in the morning, after Nam woke up and remained that habit until he grew up.
Moreover, set up a family schedule, let children sleep early and have enough sleeping time. Let children have enough group play. Use time for yourself and turn everyday chore into game.
It is not surprise that happy things with ms. Hoai anh is also simple thing like when mommy and children held hands and walked to school, or children's smile when finished the dish and saw the letter "I love you" at the bottom of the bowl… All that moments pass quickly but are truly precious for any mother.
Simple but meaningful sharings made friendly and joyful air in the talkshow, giving useful lessons for the attendants at the sharing "Disconnect to connect with your children".