Katie Chandler has not got a boyfriend, almost cannot pay the rent, and everyday she has to face the terrible female boss. Then one day, a strange email sent to her about "a wonderful job opportunity". Like others, Katie thinks that it is just a junk email and delete it, however that email keeps being sent. After one bad day at work, she decides to grasp the chance and answer the email. Everything should have been normal.
Then two handsome-like-moviestar men come and interview her. She knows that she has stepped into a not-normal-world. An enchanted company needs her help to discover the tricks of magic, thing that Katie can do due to her ...
Katie immediately recognizes that magician world is not like what she imagined. Departments fight for the attention of the big boss. The worst thing is that Katie falls for the handsome wizard of research and development department, one that cares more about fighting dark magic than love. The only thing Katie can do now is to save the world, and hope that she will have happy ever after.
(Pic: Enchanted Inc. has been sold whole series in Vietnam.)

Getting inspiration from the famous Harry Porter, Enchanted Inc. is said to be an adult fairy tale. Shanna Swendson herself confirmed that she wanted to write stories about adults who fight in career and love, and with some magic.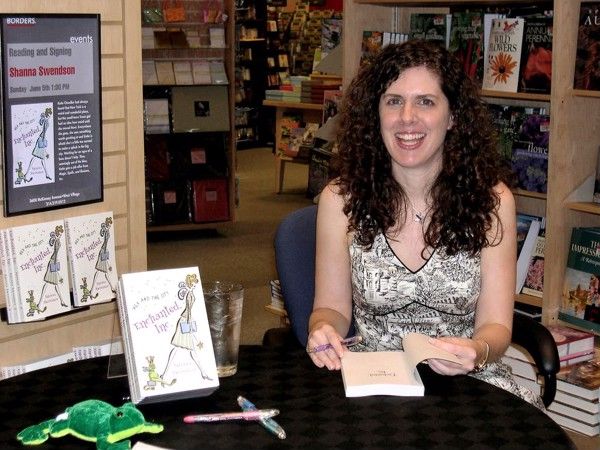 (Pic: Shanna Swendson in the book signing day for Enchanted Inc.)
Shanna Swendson used up to 11 years to finish the series Enchanted Inc including 7 books, quite a long time for a chick-lit. But Swendson thought that was the time for her to cultivate her writing. It is like children have to wait until they are 11 to receive the letter from Hogwarts. More to say is that Swendson almost could not sell any of her book in 8 years before Enchanted Inc, although she started her career quite early.
Later, she recognized that she had not spent enough effort for each book. Therefore she decided to use her time to refine her work rather than to PR and to sell books. Because of that, after Enchanted Inc. was released, the interesting plot has draw much attention from readers than she could imagine.
Shanna Swendson describes herself a bit like Katie Chandler, loving to cook and of course, without magic. If she is not writing she use time to write blog, watch TV, knit, learn ballet, cook, bake and read. She reads quite a lot, especially love Neil Gaiman's, Connie Willis' and Katherine Kurtz's, famous authors of fiction books who can help her with ideás about her magician world.