At the end of last week, author Ma Van Khang had a intimate talkshow with literature friends and readers in the "Ma Van Khang - hard time, love time" talkshow. The event was held at Vinschool, Times city, Hanoi in December 9th, 2017.
The attendants included Vietnamese golden time authors like poet Huu Thinh, author Bac Son, professor Phong Le, professor - doctor Tran Dang Suyen with speaker - reviewer Pham Xuan Nguyen.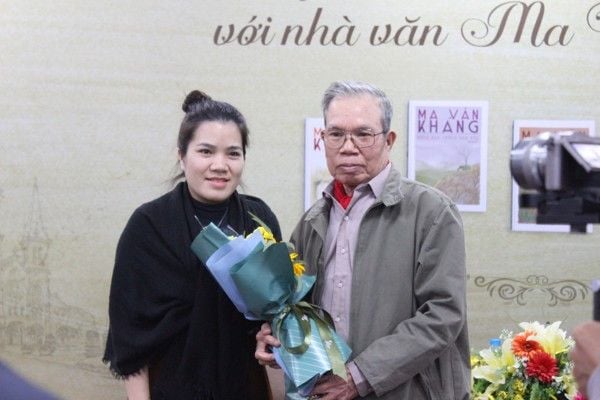 The talk not only included Ma Van Khang's works which had recently published by DinhtiBooks like "Falling leaves in the garden", "Uncertificated marriage", "Flowery white coin", "One man one horse"... but also was a chance for literature lovers to look back into the writing road of one of the most amazing Vietnamese author in the last 50 years.
In his years of writing, Ma Van Khang was lucky to have chances to experience life in both cities and mountainous areas, therefore his most popular works were about subjects at those two locations. With a writer's sensitiveness, resourceful life experience and smart writing style, Ma Van Khang wrapped up the country's events at innovation time by the humanity stories in his writing. Although his works were about life from 1980s, we can still see some of the images and stories in today's life. The name "Hard time - love time" of the event is also a message to remind readers about that hard but heroic time.
However, with poet Huu Thinh - Vietnam literature association president, the event should have another name. He said: "With all that Ma Van Khang had given to Vietnamese literature and education, I suggest changing the name of this event to "Hard time, heroic time.""
With a number of more than 22 novels published and more than 200 short stories in his career, it is so true to say that Ma Van Khang's life is a heroic time. So what made an author have a life-long devotion to literature like that?
When sharing about writing inspirations with a young reader, the 82 years old author said: "Writing is like any other job, the most important thing is to do the thing you love."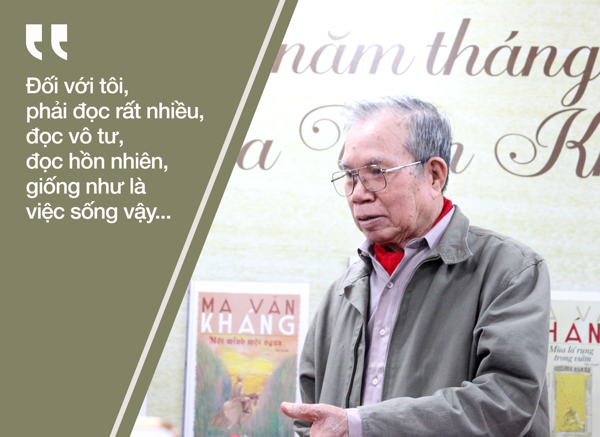 Also about the love with literature and writing inspirations, the author shared: "I am an easy person, I read a lot but do not have any private fondness of any author or work. For me, we have to read a lot, read fair-mindedly, read like living. Let reading be in to you and someday it will out like the situation of a bee: he takes in the honey and then produces it."
"About writing, I write anytime, anywhere. I do not need quiet environment or nice view… I just write when I like to."
Read a lot for what you read will be into you and then become yourself. Do what you love and desire. That were the closing words that Ma Van Khang gave to readers and ones who love writing.