The first time children aged 3-10 experience sliding book making like real book makers. How to connect 4 image frames into one sliding page is not an easy work for those little hands

In the morning of August 26th, at International - Vietnam Book festival 2017, there was the event Book making - creating the moving world by DinhtiBooks. The event has drawn the attention of hundreds of children and parents coming to "operate" Vietnamese-English-French sliding books and make feeling moving cups from simple equipments like book pages, paper cup, glue, crayons and water color...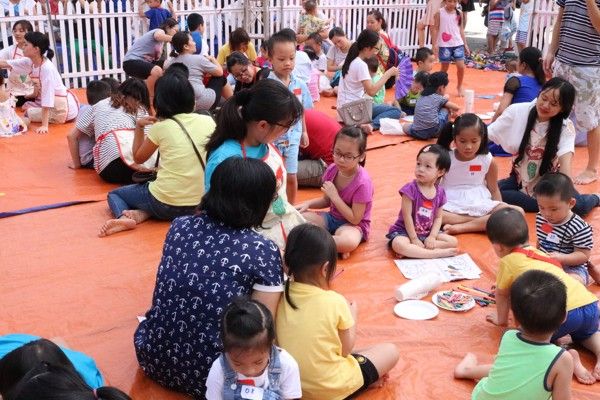 (Pic: The workshop of book making drew attention of hundreds parents and children)

The series have just been released at the end of August but it fastly became a hit in the interactive books for children 0-6 years old. These books were structured complicatedly, they can display movements like cracking eggs, footballers kicking the balls, dolphin playing with water… These lively movements make kids curious and interested in investigating.

Although the weather is quite hot but children were passionate in investigating parts of the books and try many times until they fit together into a complete moving structure.

(Pic: Trying to complete the page)

The most difficult challenge with the book makers is that there are a lot of small details with exact designing. If you want to have a smoothing moving page, you have to spend about 15-20 minutes to research, setting and fixing.

(Pic: Round movement is the most difficult page with children)

After many efforts and trials, kids finished about 250 moving page.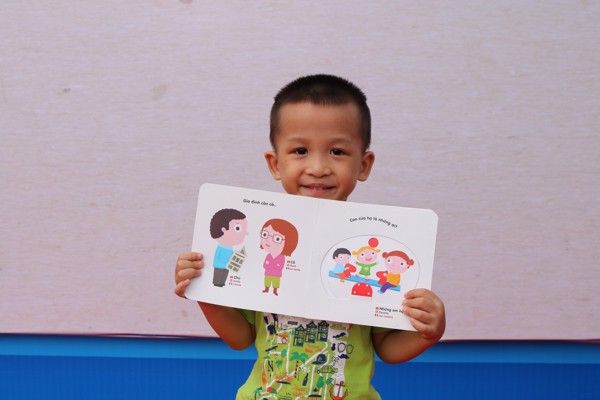 (Pic: Accomplishment after an hour of working)
In the workshop, besides making books, creating the moving world also made children surprise with their creative abilities.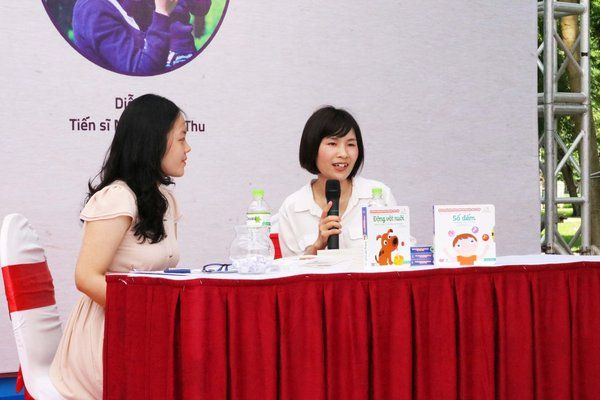 (Pic: Speaker - Dr. Nguyen Thi Thu sharing about choosing books and reading books for kids)

Workshop Book making was taken from Vietnamese-English-French sliding book which were firstly published in Vietnam. Firstly published in France with the name Kididoc, sliding books have fastly been widespread in 22 nations all around the world and become bestseller among books for 0-6 years old.